Hidden away on the edge of the Chiltern Hills near the stunning riverside town of Marlow, Monkton Barn offers the perfect retreat for your celebration.
The focal point of our venue is an immaculately converted traditional farm barn, with original beams and oak floors. The nearby meadows are perfect for outdoor events and we even have a secluded dell for woodland weddings and celebrations. Monkton Barn offers you complete flexibility for your barn wedding ceremony, marquee reception, big party or corporate event. We work with couples and clients from all over the UK. Based overseas? We're happy to help you organise your event from afar!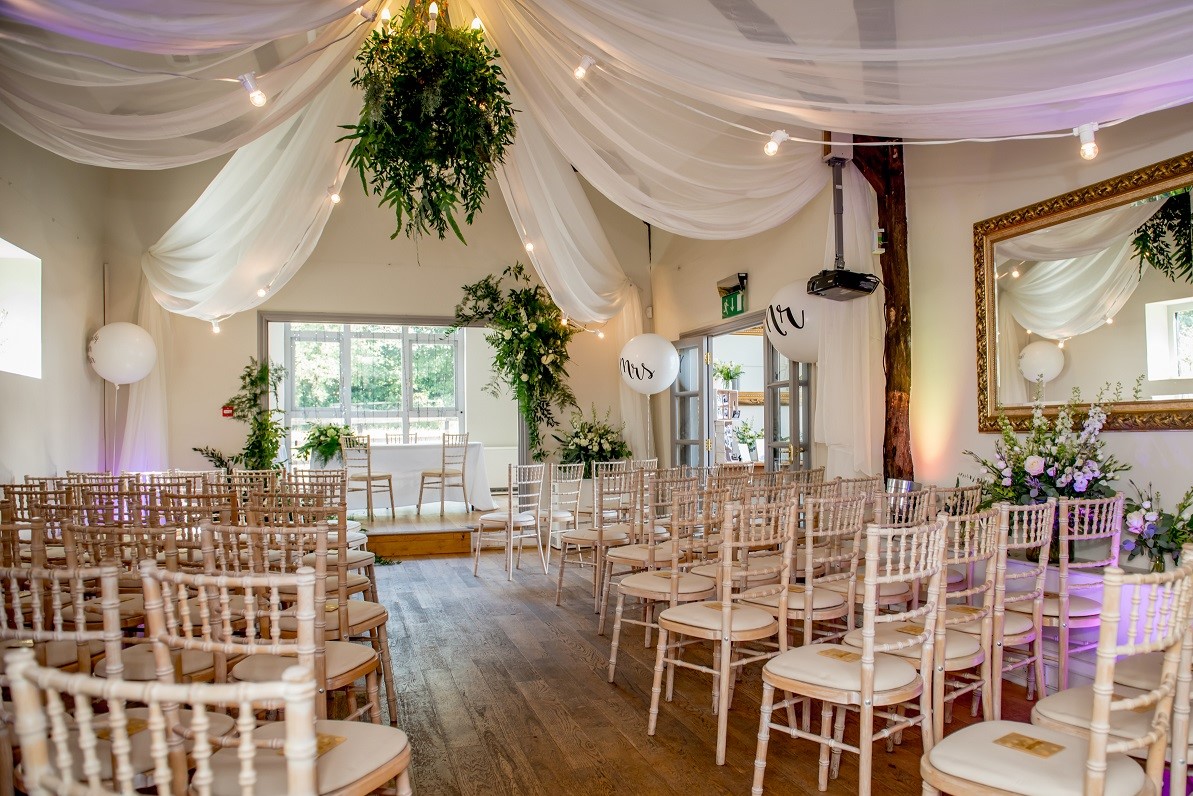 Monkton Barn stands in its own private courtyard and borders 10-acres of rolling grass meadows, with fantastic views across the neighbouring fields and woodland. It provides the perfect setting for your barn wedding, private party or corporate event. Our outdoor spaces offer the opportunity for entertainment such as live music, fireworks and bonfires, fairground rides, circus performers - even hot air balloons and helicopter rides! Monkton Barn is also home to our very own jazz club, The Jazz Experience.
250 Capacity in the Barn & Courtyard

499 Capacity in the Meadow & Woodland
A rainbow of themes, styles, colours and service...
We want you to have your own unique event and we aim to be the most friendly, welcoming, flexible and helpful hosts imaginable. You describe your vision - however eccentric! - and we'll go to great lengths to make it happen. We guide you every step of the way; with the help of our Directory of tried and tested contractors, our onsite Prop Shop plus mouth-watering food and drink provided by Monkton's Rustic Table, our very own catering and bar operation. In short, we give you everything you could possibly want for a truly memorable and one-off event, all under one roof.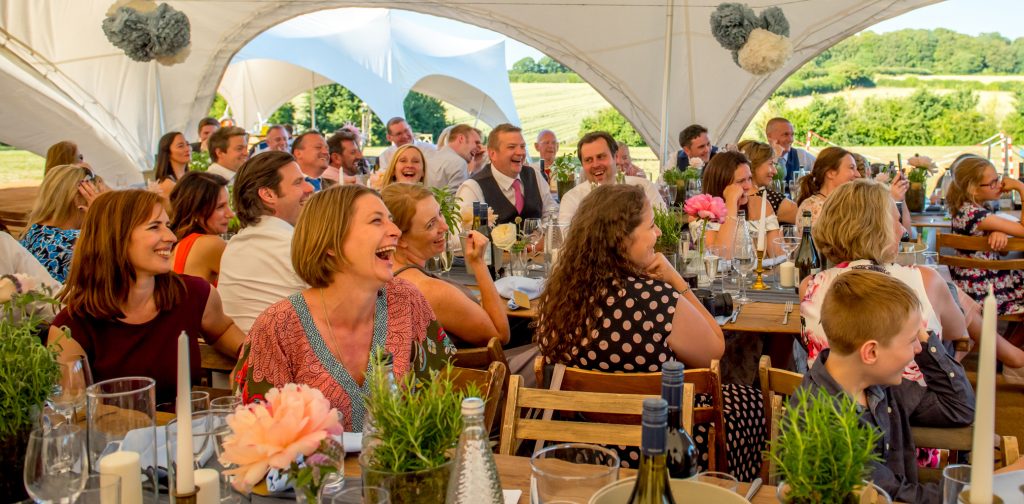 Celebrate outside, inside or both!
Have your celebrations roam! From barn to courtyard, over to the meadow marquee, then perhaps on to our charming woodland dell; formal or informal, laidback festival-style, traditional garden fete or something entirely different! Add bonfires and fireworks, dancing to live music; why not treat your guests to a night of glamping under the stars... The choices are ALL YOURS!
All images on this website have been taken by Wendy Aldiss, award-winning professional photographer and co-owner of Monkton Barn. You are of course free to choose your own photographer, however Wendy's experience at Monkton Barn and her proprietors' determination, will ensure you end up with a treasured photographic collection that matches your perfect day. Browse Wendy's images here or visit www.wendyaldiss.co.uk
There is always something new at Monkton Barn...
If you see it here, or in our gallery, then we've done it and can do it for you. Or challenge us to create something totally different! It's your event and we make sure you enjoy it exactly the way you want it.
Browse our compendium of delicious options. Make your menu choices and tell us where, when and how you'd like it served. We'll do the rest!
Connect with nature with a woodland wedding ceremony? Overnight camping or glamping? Ceremony in the barn followed by a reception with drinks and games on Home Meadow? Dining in style in the main marquee? Cosy winter evening wedding reception with firepit, roasted chestnuts and toasted marshmallows? Funky jazz club theme? Globetrotters round-the-world fancy dress party? Mini West-End musical? Anything goes at Monkton Barn.
Music and entertainment without limits at Monkton Barn – dance the night away!
Hi lovely Monkton team,
I'll send a proper 'thank you' soon but I just wanted to say that we had such a wonderful time and your staff were absolutely exceptional. Everyone commented on how lovely the bar staff were in particular, and thank you to the lovely bartender who kept providing me with alcohol free G+Ts the whole evening, before I'd even asked! Made me feel very special! 🙂
Every element was dealt with so well, the food was amazing and everyone was so impressed with the venue. So a big thank you from us! It was exactly what we wanted.
Summer Wedding
August 2021